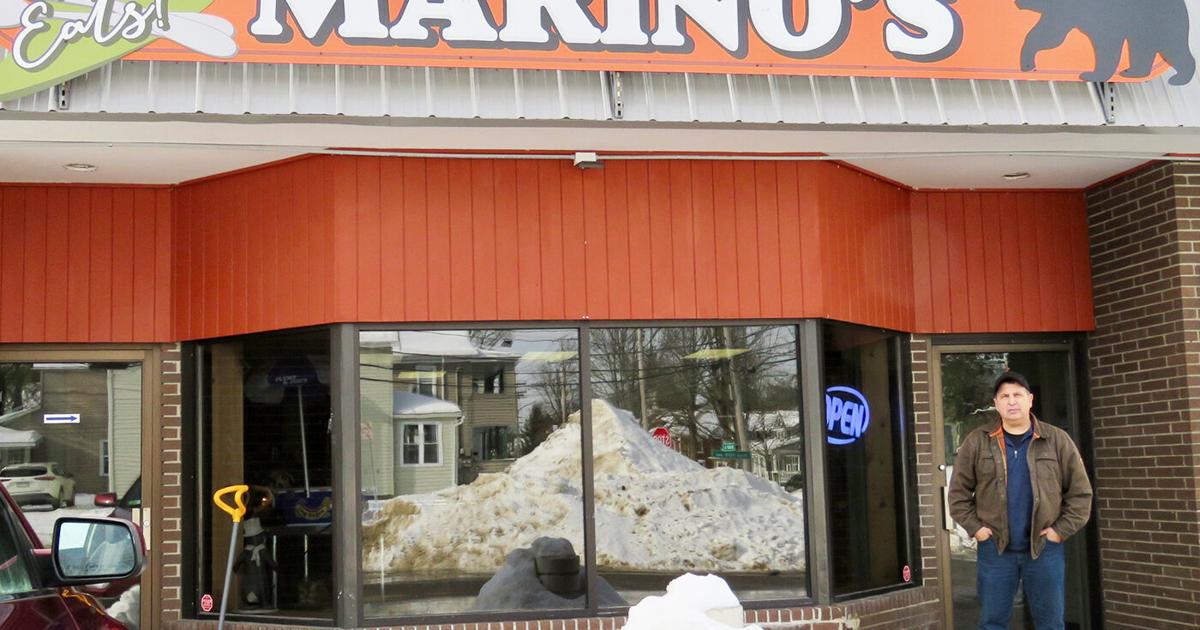 A businessman from Salamanca expands his catering service with a new restaurant | Business
SALAMANCA — John Marino has expanded his business with the opening of a new restaurant at 215 Broad St. in the former home of radio station WGWE-FM. The restaurant is an extension of its original Marino's Pizzeria and will bring more dining options to the community.
Run by Marina Bryant, the new restaurant on the corner of Broad Street and State Park Avenue opened early January 31. The dining room has a cozy atmosphere with several large teddy bears to welcome guests. It is a place where people can comfortably dine and enjoy their favorite dishes. For those looking for a quick grab-and-go breakfast, they can order ahead and pick it up, or walk into the restaurant and choose from ready-made breakfast items.
Since the breakfast has been so successful and people have been asking for delivery, Marino's began offering breakfast delivery on February 7 and will continue to offer the service daily from 8:30 a.m. to 11 a.m.
Along with his sister and business partner Geraldine (Geri) Marino, he owns J-Con Parks Inc., Marino's Pizzeria, Bear Paw Fudge Co. & Gift Shop, and now the restaurant called Marino's.
Marino said they offer a buffet breakfast every Sunday from 8 a.m. to 1 p.m. From February 19, Saturday breakfast buffets will also be offered.
According to Marino, their first breakfast buffet on Sunday February 6 was very successful. He said they were busy and the flow of people coming in didn't stop until around noon. Next Sunday's buffet will include fried chicken, garlic bread, macaroni and cheese, and Buffalo macaroni and cheese.
The restaurant offers daily buffets that change daily and offer an assortment of prepared meals. A short menu has a good selection of starters and sandwiches, as well as a nice selection of pasta dishes.
Marino said he leased the building from the Seneca Nation and they had been excellent at working with him, allowing him to make some minor changes to the building, including a door at the back and a 14-foot covered walkway between the two buildings. They also removed a few walls to open up the space.
The restaurant can accommodate 35 to 40 people. A small private room was created which had two old-fashioned radio station sound booths and seats 12 to 15. Marino said the private room is ideal for birthday parties and guests will receive a parfait or a free ice cream.
Marino's business has continued to evolve with the times. When COVID-19 hit nearly two years ago, he had no choice but to close the pizzeria's dining room. He said it was obvious the dining room wouldn't be returning anytime soon, so the space was turned into a pick-up area. Then he turned the room into a successful ice cream shop, now offering ice cream cakes.
A few new employees have been hired, including a few servers for the dining room and a few additional cooks.
"We are very lucky to have great staff and a great manager (Marina Bryant) who has been with me for a while now," he said. "She and I work in day-to-day operations and she's fantastic."
The restaurant will be the only place where customers can dine. When the weather warms up, guests will have the option of dining outside the lodge next to the pizzeria and the adjacent Bear Paw Fudge Co. & Gift Shop.
Marino said they were dropping "pizzeria" in their name to incorporate all businesses. He said the staff calls the new establishment a restaurant and that it is a continuation of the original pizzeria business, which is mainly take-out and delivery.
The restaurant opens at 6:45 a.m. seven days a week. Lunch begins around 11 a.m. and ends around 3 p.m. People can call to place an order for breakfast starting at 6:15 a.m. Marino said customers are still picking up their lunch and dinner orders at the pizzeria building, but directing customers to pick up their breakfast orders at the restaurant.
For more information, call (716) 945-5000 or follow Marino's/Bear Paw Fudge Co. & Gift Shop on Facebook.