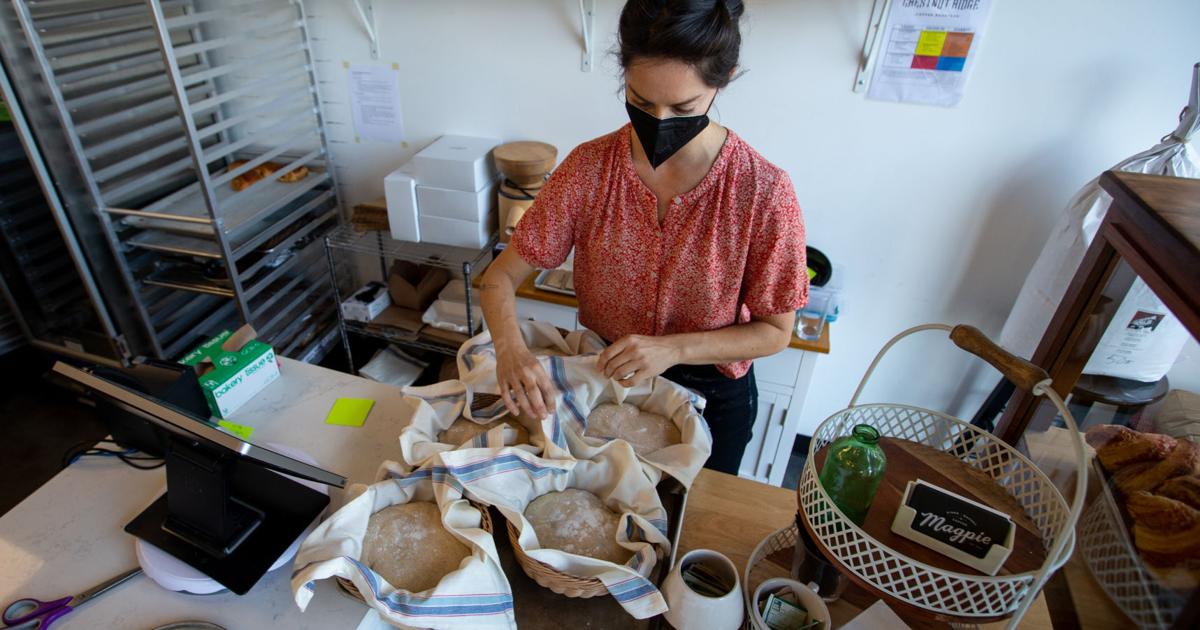 Bakery at Magpie offers European-style pastries, rustic breads | Everyday
Magpie's Bakery is famous for its vanilla braid.
At noon on a recent Friday, the bakery had already sold out the European-style pastry.
A customer bought the supply to take to hospital staff for an afternoon treat.
Having freshly baked bread and pastries is a dream that Kirsten Moore, owner of Magpie Diner, said she wanted to turn into a reality.
When the restaurant opened in the summer of 2020, Moore opened the Bakery at Magpie, an in-house bakery with its own entrance at 85 W. Gay St. in Harrisonburg.
In addition to baking all the breads used by the diner-inspired brunch restaurant, Moore, who has spent time overseas, wanted to bring the European-style baking experience to Harrisonburg.
"Pastries go so well with coffee, the breakfast idea," Moore said. "There are so many places in Europe where the breakfast is coffee and a croissant and that's it."
Nestled between the restaurant and Chestnut Ridge Coffee Roasters, the small, women-run bakery produces about 19 sourdough balls, or loaves, each day and 150 individual pastries.
"At the end of the day, our fridge is full of trays of pastries and sourdough to be baked the next day," says Rachel Herr, head baker.
Essentials include pain au lait, a soft white bread used for things like French toast and sandwiches, rolls and a variety of pies, another Moore request for baking.
" It's a restaurant. You must have pie," Herr said.
Hired by Moore when the bakery opened, Herr developed the bakery's croissant dough and called it her "baby".
Making the pastry dough from scratch takes over three days from start to finish.
The result is a puff pastry with layers of butter that resemble the pages of a book, with a flavor that has only just been freshly baked.
It is used as the base for all the different pastries the bakery makes, including a chai bun, a chocolate croissant, and the famous vanilla braid.
Strips of crescent dough are braided and coated in simple vanilla icing to make the dough.
A chic cousin of the glazed donut, the treat has become one of the bakery's bestsellers.
"When you overthink something, people don't end up wanting it," Herr said. "Sometimes when things come organically, that's the best way."
Herr said baking started as an easy way to reuse leftover croissants, long strips of dough.
While the vanilla braid was born out of simple innovation, Herr, who once worked as a pastry chef at the Local Chop and Grill House, brings a meticulous and investigative energy to the bakery.
Describing sourdough as a scientist, Herr said bread begins with a natural fermentation process that extracts "wild yeast" from the air.
Herr said the operation requires a lot of training, with specialized jobs going around the clock.
Every night someone has to come in and check the sourdough, a mixture of flour and water that ferments over time pulling "wild" strains of yeast out of the air.
Some bakeries may use yeast or add yeast to sourdough. Herr, who also studied art in college and does hand quilting in his spare time, said the flavor of real sourdough is really special.
"It gives it that deeper flavor [with a] very light spiciness. It doesn't really taste sour, but it does have a pungent depth of flavor that conventional yeast doesn't provide," Herr said.
The large round balls feature a caramelized crust marked with a square hatch pattern.
They barely had time to rest on the shelf before being bagged and purchased by customers.
Regulars and new customers still came in and out of the bakery's glass doors, picking up the loaves, as well as flaky chocolate croissants, chai buns and rustic cookies.
"People are lining up for [bakery] like they do for dinner," Moore said. "We just don't have [this] kind of vibe anywhere [else]."
Kyle Lawrence, a regular customer, works above Magpie in a coworking space called the Perch, which Moore opened with the other businesses.
Lawrence said sourdough from the bakery has become a staple in his home.
"It's the loaf of bread we eat at home every week now," Lawrence said. "I buy at least one or two loaves a week."
He said he likes knowing the bread is made locally.
"It's amazing," Lawrence said. "Have freshly cooked things every day."