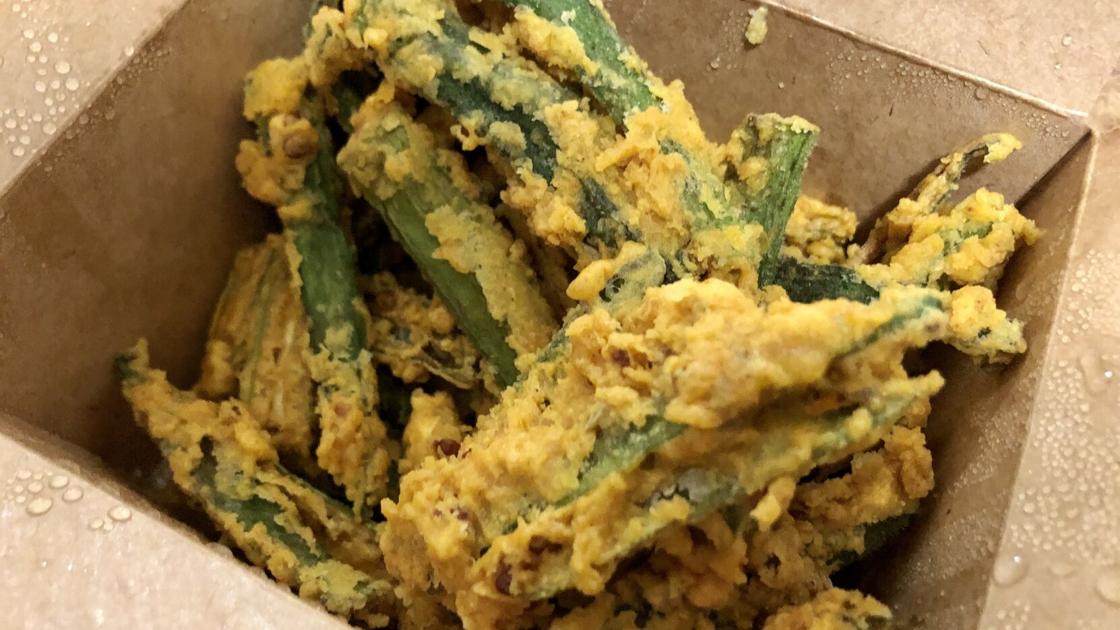 Brown bag special: Aruna Cafe | Taste, Santa Fe's food scene
There were all of us, half a dozen or so, standing on a Friday night in a parking lot near Rufina Road. Neither of us spoke much, but something about the silent anticipation struck us as special as, one by one, a woman at the door handed us discreet brown bags.
Inside: a neatly wrapped medley, still hot, not to be missed from an Indian dinner.
Aruna Cafe has been sending these fixed price multi-course meals in servings for one or two diners since June. But the menu – available for pickup only during a two-hour window on Fridays – changes weekly according to the seasons and the creativity of Chef Dhirendran "Dhiru" Paulraj.
That week, for example, Chef Dhiru spotted an abundance of fresh okra in Albuquerque and put it in the center of the first course, with a light, delicately seasoned breading and sweet onion chutney for dipping. As a native of the South with warm memories of my grandmother frying okra in her Georgian kitchen, trust me when I say I would camp in this Rufina parking lot for an hour just to eat a can of Paulraj's take the cool dish and hot piping from the kitchen.
But the okra dish is short-lived, destined to be replaced with other opening dishes as fall sets in. Recent choices have included a fall salad with roasted beets, figs, cucumbers, pumpkin seeds and a golden ginger vinaigrette; a donut of green cabbage and pakoda onions; and a cold cucumber and basil soup.
Usually, Paulraj imagines three dishes, including a curry and a dessert. Meals cost $ 42 for two people and $ 25 for one person. Order them with a mango and cardamom dream lassi or Paulraj's signature sarsaparilla lemonade, a bright and sweet marriage of licorice and lemon unlike anything I've had in Santa Fe .
My Friday meal included a moil of mixed vegetables, a rich coconut milk-based stew with potatoes, sweet potatoes, green beans, cauliflower and other vegetables, and two complex and crumbly squares. apple cake made with brown sugar streusel, cardamom and raspberry compote. The portions were perfect for two with no leftovers.
I soon found myself on Aruna's Instagram page (@arunacafesf) delving into past menus, mourning the dishes I had missed – spinach lentils, apple bread and butter pudding with berries, au mango cheese, hearty Nilgiri vegetable kurma, zucchini and corn fritters with coconut chutney, roasted eggplant with chickpea and coconut curry, rosewater chocolate mousse – and look forward to the Monday's reveal of next week's menu.
Dishes are vegetarian and vegan, gluten-free, and nut-free options are noted. Paulraj's cuisine emphasizes organic ingredients and cooking from scratch.
Once the menu has been posted online and emailed to subscribers, you place your order online at arunacafe.com (including specifying whether you want your regular or mild curry) and set an approximate pickup time. Then you pass the Commercial Kitchen (next to Alicia's Tortilleria), where a host at a table up front connects you with your coveted food and drink.
Paulraj was trained in culinary school in India and worked at a South Indian restaurant called Dosa in San Francisco before helping to open a restaurant in Philadelphia. In 2014, he was recruited to help chef Paulraj Kumasamy, with whom he worked in San Francisco, to open Paper Dosa in Santa Fe.
He felt a connection here, even in the squat buildings and coyote fences that reminded him of his home in India. "People here are more united and loving" than in the big cities, he said. "There is a community here.
The following year, he met Tess Wilkes, originally from Santa Fe, and they married in 2016. They now have two young children – Aruna, whose company is named after, and Anjali – and are co-owners of a Coffee.
The parallel moment of founding a family and a business has a history in the Paulraj family. Wilkes tells the story: For years his mother ran a small store outside the family home in India selling dosa paste. When Paulraj was born, the family had to pay for the hospital before bringing him home, so his father went to collect the debts owed on the batter that had been sold. Now Paulraj has converted his habit of cooking for friends at home into a full-fledged business as their family grows: "You do your job when the baby comes," Wilkes said with a laugh.
Paulraj, who still works at Paper Dosa three evenings a week, credits her family in India and her training with her culinary versatility.
"I've worked in different kitchens so that's what gave me confidence to make a different menu every week," he said. "I'm touring India, I'm not just focusing on one region. It depends on what is available and its balance.
He encourages feedback on all his dishes, and is developing in catering and private cooking.
"I have never cooked so many different dishes every week before," he said. "It's difficult but in a good way."
Already, he says, he has a list of repeat customers who order the new menu every week. I understand the call. Friday night, a parking lot, a brown bag carrying a delicious dinner that only exists for one night. We'll see each other there.