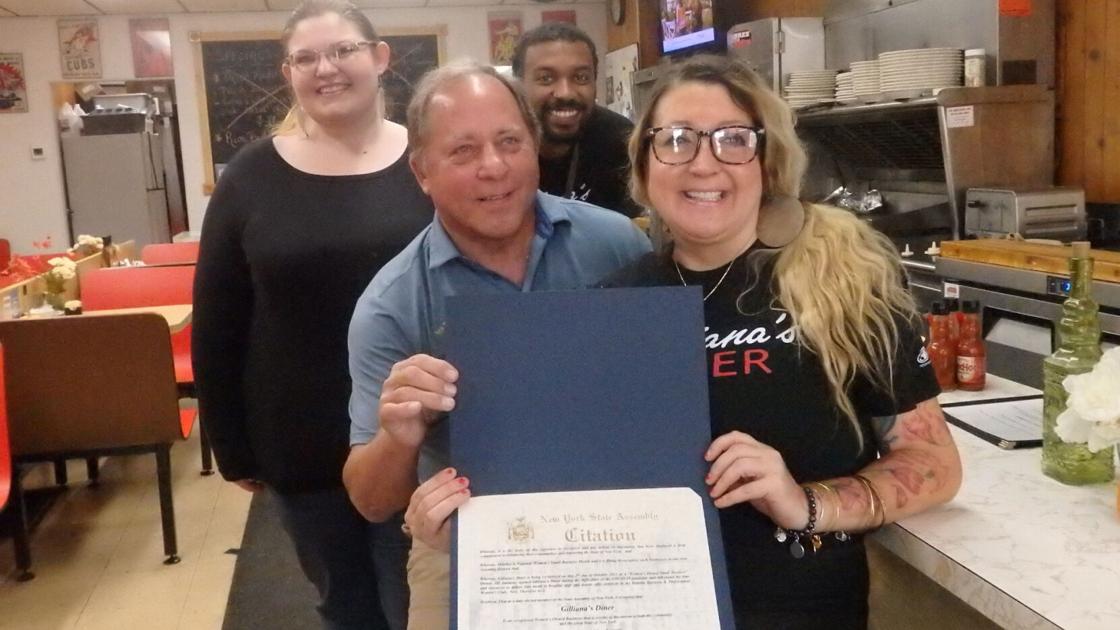 Creativity and Perseverance: Gilliana Restaurant Owner Recognized for National Women's Small Business Month | Business
BATAVIA – A large lunch crowd prepared Gilliana's Diner on Saturday afternoon.
They took care of the kitchen – all kinds of food including burgers, pasta, tater tots, and side salads. The restaurant's Polish specials were sold out the day before.
The restaurant's success has grown steadily, but owner Jill Antinore and her husband Mark opened the establishment in their toughest times, during the statewide COVID-19 shutdown.
Jill received special recognition during a visit by Assembly Member Steve Hawley, R-Batavia, as part of National Women's Small Business Month.
"We didn't really have a choice in this matter," she said of her success during the pandemic's greatest challenges. "We had no idea, and it's just started … The community has been really great."
Jill, 44, is a former high school music teacher and a huge fan of the "Diners, Drive-in and Dives" TV show on Food Network.
She taught for 15 years, joined the former PW Minor footwear company in Batavia, and worked her way up the ranks to become head of product development before the latter closed.
She and Mark were watching "Diners, Drive-in and Dives" on a Friday night in January 2020 when Salvania's former location at 41 Jackson Street was for sale. They already loved the place, and she had always loved to cook.
"I was looking for another job, thinking about what my next career path would be," Jill said. "Do I want to go back to teaching and what am I going to do?" … I always said it would be my dream to buy this place and (Mark) said, "Go on. We walked it on Saturday and bought it on Monday.
She and Mark were updating the location when the COVID crisis hit hard. They opened with a very sweet launch on May 22, 2020 and haven't looked back.
Jill said they knew it would be a challenge even before the pandemic became a problem. Like any home improvement project, they planned for the worst.
They hadn't anticipated a global pandemic, but they kept going, catering to their customers and to demand.
What brought the popularity?
Jill said the dinner brought out her creative side. They offer breakfast and traditional American dishes, such as sandwiches and fish fries, as well as homemade Italian dishes and Polish specialties.
She prepares Italian sausages and homemade breakfast, as well as perogies.
"I really try to do everything from scratch," she said. "Corned beef hash comes from scratch. I am an anti-box person. Don't get me wrong, it's fine sometimes, but I'm not doing that here.
She and her staff also place great emphasis on customer service. She focuses on what is most successful and what customers value most.
"I try to think of myself as humble and modest enough to just listen to customers and try different things," she said of taking on the challenges. "We keep changing our hours, we keep changing our menu. I don't like doing this because there are inconsistencies, but I feel like I have to choose what will work best for everyone. I keep learning. Every day is a learning curve.
"This is what I continue to do," she continued. "Every night I wake up in the middle of the night, 'What can I do to improve business? ""
During the pandemic, Gilliana's Diner also donated homemade meals to staff at the United Memorial Medical Center, the City and Town of Batavia Fire Departments, and the City Police Department.
"The dedication and generosity that Jill Antinore has shown in opening her business in the midst of a pandemic is truly commendable, and her restaurant is the perfect place to start our celebration of National Women's Small Business Month," said said Hawley, who will recognize other women belonging to women. small businesses throughout October. "What she's done for the community, even working to get her restaurant up and running, is truly amazing."
Gilliania's Diner is open, stable and successful, and Jill feels blessed.
"I want to make comfort food," she said. "I want people to feel comfortable – we're not fancy here. But I love to cook and I love to be creative. So don't be surprised if you see something like Korean spare ribs with gochujang paste or something like that. It's just me watching "Diners, Drive-ins and Dives" and I say "Ooh, that sounds fun". I want comfort food, but at the same time, I like to be fun.
Was running the restaurant fun?
"Yes," Jill said. "Lots of work, but fun. I wouldn't change it for the world. It was really hard but really great.