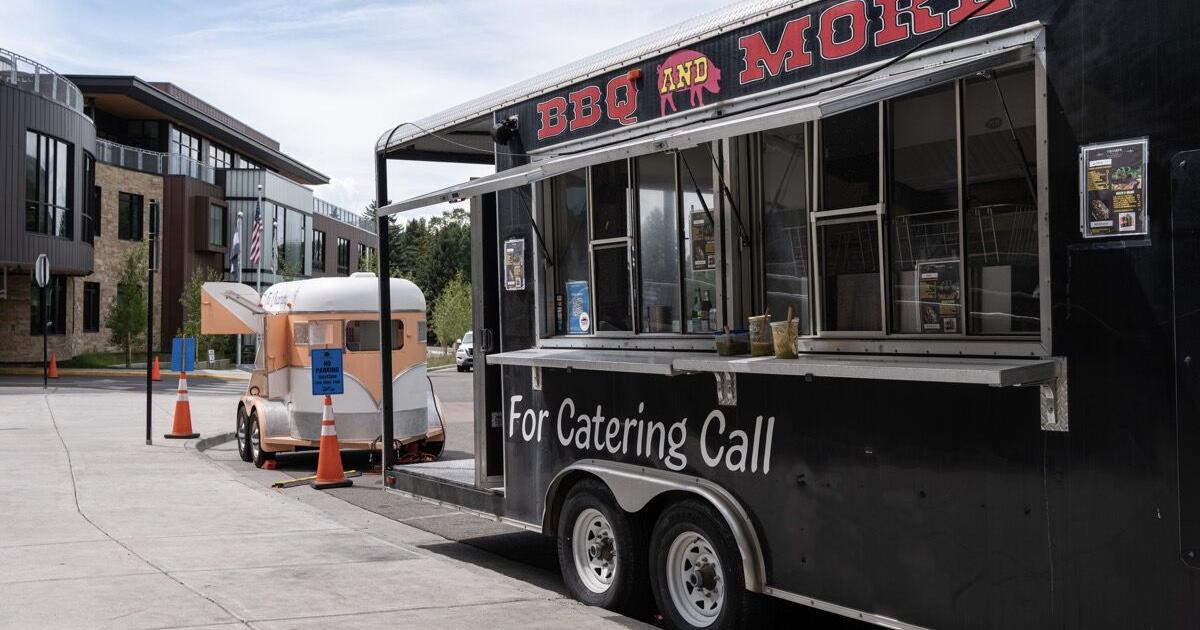 Food trucks do business in front of Aspen City Hall | New
Aspen may not be known for its mobile food scene, but that could change in the near future now that two local food trucks have opened a store outside Aspen City Hall on Rio Grande. Square.
The Dreamery, an Aspen-based ice cream trailer, and Chamo's, a Mexican-style taco truck, were selected by the city to park outside the former location of the Taster restaurant and provide service to locals and visitors throughout the summer season. The project was approved by the Aspen City Council in May, and both vendors have been open since July 4 weekend.
"I'm really excited about what we've achieved," said CJ Oliver, director of environmental health and sustainability, who oversaw vendor selection. "We have the heartiest Mexican tacos, and the ice cream, I think, is a nice complement to that, and it's also relatively affordable."
The city opened the application process in late May to food vendors interested in the space, with the goal of finding two affordable and diverse options with sustainable best practices. The Dreamery and Chamo's were the only two applicants who fit the bill and submitted complete applications on time, Oliver said.
Megan Thomas, owner of the Dreamery, and Carlos Hernandez, owner and operator of Chamo's, both said they were happy with the facility and that business has picked up steadily over the past few weeks.
"I'm really happy to be in my little space near the Rio Grande," Thomas said. "I've always been interested in food trucks in Aspen, so I got into it right away because I thought it was an amazing opportunity. I wanted to be part of the city's growth in that area.
Thomas has 25 years of experience in the food and beverage industry from New York to California and in between, including Aspen. As a level two bartender and sommelier, she worked her way up to top establishments in the area, but eventually achieved her dream of working for herself. She bought a small horse trailer in December and refurbished it earlier this summer, and has since taken it to private events and parties in the Valley. Now it is parked outside City Hall most days.
"I first thought of building a mobile bar out of a vintage trailer, but as a mother and thinking about how I want to run a business, I got excited about ice cream and how I could sell in a way that could really make people smile," Thomas said. "It's for all ages. Children smile as big as adults when they have a cone full of sprinkles. »
Thomas offers soft cones with a variety of sprinkles, as well as a selection of ice cream sandwiches ranging from a rotation of classic flavors like chocolate and strawberry to more complex tones like salted caramel and pistachio.
Its new next-door neighbor, Chamo's, satisfies a different kind of craving. Hernandez said his menu focuses on traditional Mexican-style tacos, tortas and quesadillas with various Latin American influences and vegetarian and vegan twists. Any item on its menu can be vegan, and all of its ingredients except meat are plant-based.
Originally from Nicaragua, Hernandez has been cooking Mexican dishes for 31 years, the last six of which have been in Colorado, most recently at Rifle. The opportunity to bring his business to Aspen was a dream, he said.
"Everyone wants to have a business in Aspen and be successful," he said. "Aspen is a gem in the mountains, I'd call it, and I think there's a lot of opportunity and we're grateful to be here."
The food truck is a dawn-to-dusk job for Hernandez and his assistant, Omar, and Hernandez said the support from the city and local residents has been tremendous so far. He and Thomas are both coming to the end of their contracts on September 30, when the city council will discuss what worked and what didn't to determine whether to continue with the food truck project. or go in a different direction.
Hernandez said he would like to be able to keep his business in Aspen, whether he continues to work off the truck or finds a permanent space.
"We're here, hopefully we're doing a good job, and people like us and we can come back for next season," Hernandez said. "We are very grateful for the support of the inhabitants and the city. They were very nice to us.
Chamo's is open 11 a.m. to 6 p.m. daily and the Dreamery is open 1 p.m. to 6 p.m. daily except Mondays, unless Thomas has booked a private event. Both trucks are outside 455 Rio Grande Place.