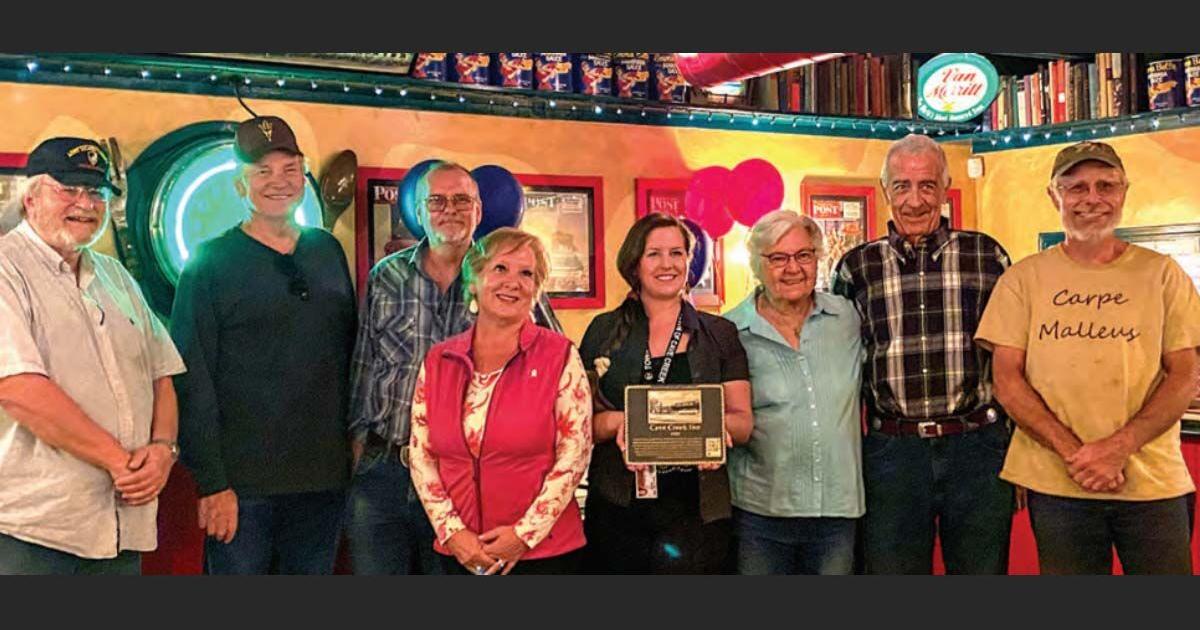 Former Cave Creek Inn Recognized As A Landmark | News
Ssince 1928, the building that houses Oregano's has seen a variety of tenants like the Cave Creek Inn and a taco restaurant.
For this, it was recognized as a local historic monument on November 30.
Owners Mary and Tony Venetucci received a brass plaque that describes his lineage and a QR code that, when scanned, reveals information about the historic site, personal stories of residents, and an interactive map of other Cave Creek landmarks .
"This is the sixth of six landmark local ceremonies where we unveil this beautiful, heavy brass plaque," ​​said Kelley Francis, communications specialist for Cave Creek.
"This is a program that the Town of Cave Creek launched in December of last year after several years of preparation and implementation. It is a combination of volunteer support from people who live in the community and from the Cave Creek Museum. The intention is to showcase the people, characters, destinations and spaces that make Cave Creek unique in Cave Creek and contribute to this city's heritage to make it a city that stands out in the world.
Oregano is the second oldest building in town, just behind Harold's Cave Creek Corral, and was the first commercial building permit issued. The building was erected in 1928 and originally operated as the Black Mountain Store, which sold groceries and other basic supplies.
Then, in the early 1950s, it was converted to the Cave Creek Inn, where weary travelers could rent a cabin for $ 4 a night or stock up on homemade food. Cave Creek Museum director Evelyn Johnson said she learned interesting details from George Sweets, whose parents owned the inn.
"There were five TB treatment cabins here on the property, and they were marketed as vacation homes, much like VRBO today," Johnson said. "Then there were four cabins that had rotating people coming out and enjoying the tranquility and views of the area."
After the Cave Creek Inn closed, the building became home to a French restaurant called Trois Amis. According to former owner Corolyn Cox, Three Friends was known as "the last stop" because at the time there was only one dirt road in town that ended in front of the building. Travelers would stop there overnight to rest and feed before returning home.
Some time later the building became a Mexican restaurant called Los Mesquites Taqueria (known locally as the Taco Tree), then lay dormant for about eight years before being reopened as Oregano's Italian restaurant in 2014. building remained.
The Cave Creek Inn was the sixth recipient of the Local Monument Award, after Harold's Cave Creek Corral, Carpenter's Trading Post, Big Earl's Greasy Eats, Dairy Queen and The Hideaway. The public named the landmarks in 2020 and then they were restricted by city council. Francis said factors such as accessibility, community engagement, heritage and contribution to the well-being of the city were taken into account. She also said that the city will continue on this path as it has a long and rich history.
"Applications have been open until November 15 for the public to nominate future destinations they would like to see achieve this recognition," said Francis. "At the regular council meeting on December 20, city council will vote on the next 10 destinations that will receive this brass plaque recognition as a local Cave Creek monument."
The Local Monuments Program was started by Ian Cornwell, former Director of Planning, and Paul Eelkema, Vice-Chairman of the Planning Commission, who found it important to preserve and recognize the city's history.
The city sponsors the plaques through its Economic Stimulus Fund in an effort to increase safety and the ability to walk in the city, as well as to recognize the "unique spaces that contribute to Cave Creek's long-standing heritage." , according to Francis.
An interactive map of current local landmarks as well as a list of potential new landmarks are available at cavecreek.org/569/Local-Landmarks.