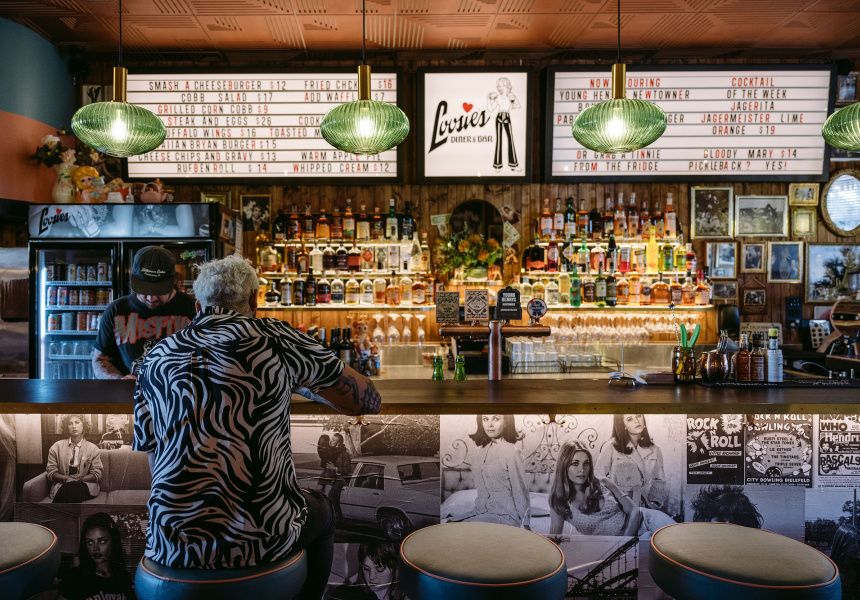 Let loose at this 70s-inspired, LA-inspired bar and restaurant on the Mornington Peninsula
It was 2019 when Fried Chicken and rock'n'roll bar Wowee Zowee arrived in Mornington. Behind: Simon Tarlington, now also Executive Chef of Jackalope's Doot Doot Doot; Clint Hyndman, Something for Kate drummer and owner of the Yellow Bird Cafe in Windsor; winemaker Cam Marshall; and interior design genius Craig Baum.
But with their second location in Mornington, Loosie's Diner & Bar, the team has refined their style of dive bar. Taking cues from the 'drab' dinners found in LA in the '70s, thick Venetian blinds on the front windows act as a divider between the seaside suburb on the outside and the good times inside. As you walk in, you're greeted by American-style wood-paneled walls almost completely covered in gold-framed black-and-white photos of '70s girls.
Interior designer Life Installers worked closely with Hyndman and Baum to bring their concept to life for Loosie's. "It's about never getting you out of the mood," Hyndman says. Large format sheet. "So wherever you look, there is something to suit you. Something to keep you in that rock'n'roll and dinner party vibe.
The custom-built booths and bar look both '70s and Art Deco-style, while the glittering bronze roof, light fixtures, and expertly stocked bar remind you that this is a house of entertainment (even if there is the odd high chair).
"I never thought I would make high chairs," Hyndman says. "And while in the city you wouldn't, here it's different. It's families. But families like us who always want a great place to go. We all love spirits [parents] – my wife included.
The beer fridge is stocked with many favorite local artisanal goods, and on tap there's Pabst, Young Henrys, and Bonza IPA. But the wine list is so well thought out, you might leave Loosie's convinced that burgers and beer aren't always the best pairing. Range Life Sparkle Hard prosecco really suits the mood, or you can refuel with a more comfortable bottle – like Garagiste's pinot noir from the Mornington Peninsula or SA's Spinifex shiraz.
To accompany the free flowing drinks, the food menu is suitably carby. The mac'n'cheese burger is the perfect mix of gooey, cheesy and sassy. There's also a classic burger – juicy and satisfying – as well as the huge and spicy Buffalo burger with buttermilk fried chicken, hot Frank sauce, and chipotle pickles. Additions include cheese and pepper fries and fried cabbage in a few forms: popcorn with ranch, buffalo wings, and buttermilk fillets (on waffles).
And they say you don't make friends with the salad, but these were clearly designed by a famous chef: try the barbecue chicken and its coleslaw. And for the full American dinner experience, there's also a hot apple pie with whipped cream.