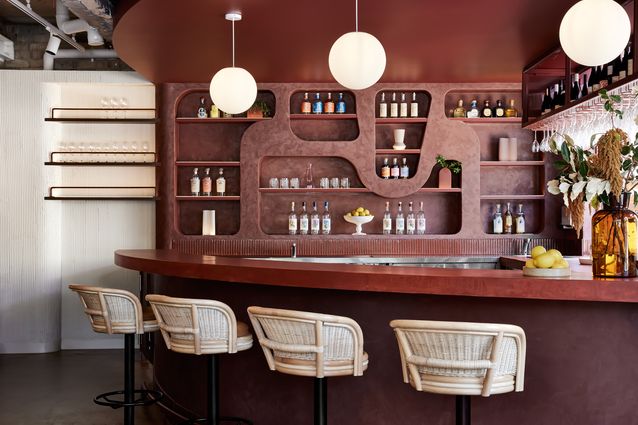 Mexican Modernism: St. Alma | ArchitectureAU
Hotel designer Five Foot One has transformed a former Bendigo bank in Sydney's Freshwater into a Mexican dining destination for Alma Group.
As Alma's smaller sister restaurant in Avalon, Five Foot One has channeled the airy, coastal atmosphere of the original restaurant's Mexican street food with a contemporary, edgy twist.
The unassuming white brick facade hides an interior landscape rich in burgundy accents that draw diners through the main entrance. The color is repeated in key focal areas and is offset by terracotta tones, greens and mustard accents.
While tearing down the original banking site, the design team discovered intriguing and robust features of the original form that have been retained in the new iteration.
Exposed roof trusses and rough sawn timber beams provide the trellis for the high ceilings. A woven hessian ceiling hangs in the high roof cavern that swells with the ocean breeze.
Like its menu, the airy sand-and-vermilion-hued space is a nod to the style of a Mexican hacienda, but with a modern Australian twist. The geometric display shelf built into the curved bar is a repeating pattern throughout the space.
St. Alma is an amalgamation of Mexican modernism and elevated Australian seaside restaurants that channel the unaffected air of street food without compromising design.