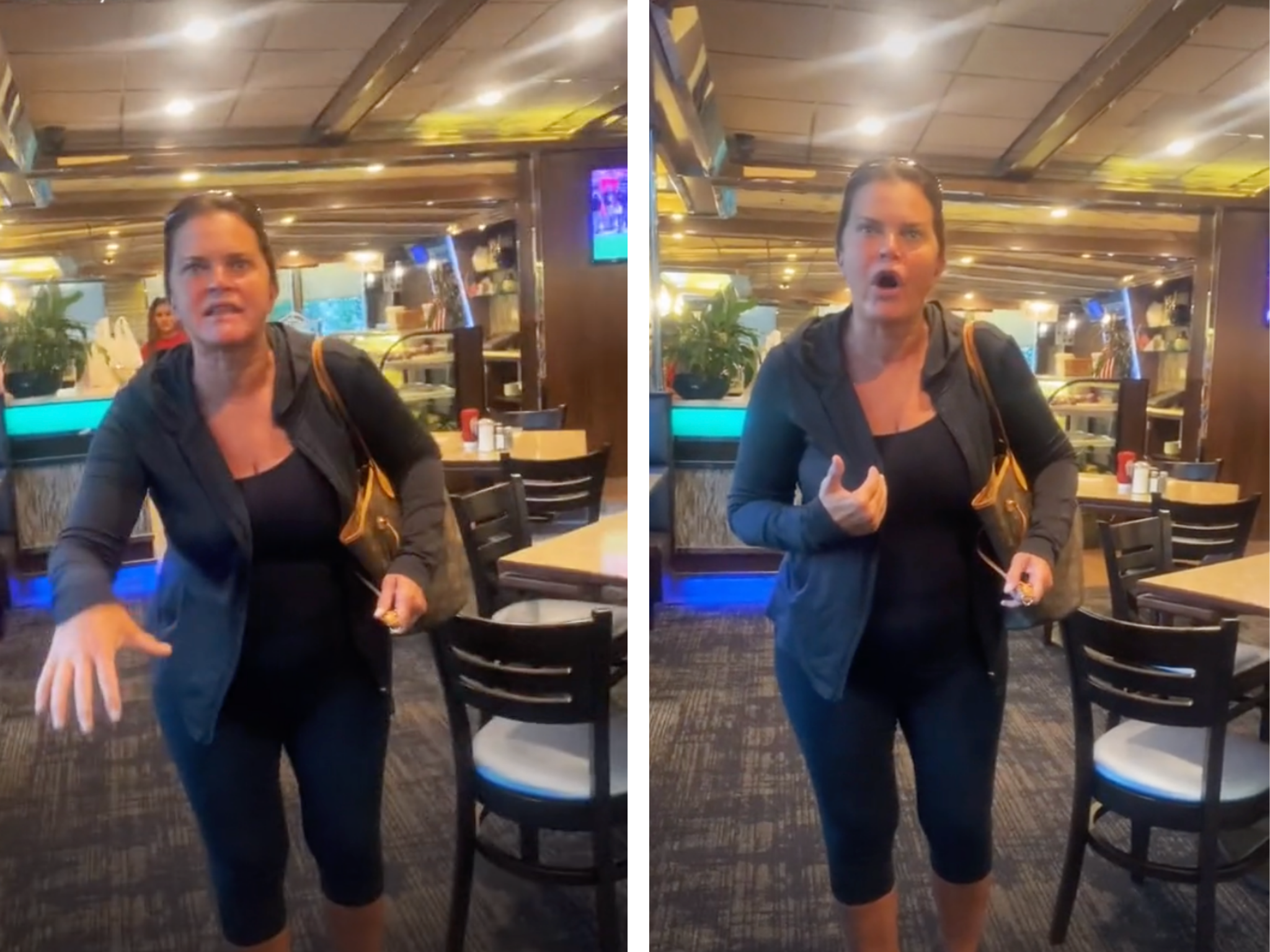 Mother of toddlers with autism confronts "Karen" complaining that her children are laughing in a restaurant
An American mother enjoying food and drink at a restaurant with her autistic children has been pulled over by another woman for talking and laughing, in a TikTok video that has been viewed over 1.6 million times on the platform.
In the clip, posted by user @ Bamskye2426 on Tuesday, the woman – who is called "Karen" – can be heard telling the parent that "this is not the place" for her and her children, suggesting that they go to a Chuck E. Cheese instead.
Adding text to the video, the mother writes, "According to Karen, this is not the place for children with autism. It's a diving dinner.
"Also note that the kids don't scream, she does. The children didn't leave the table to disturb anyone, she did.
"No one had a seizure except her and the kids were just laughing and talking."
Register now to our free weekly Indy100 newsletter, 'The Viral Democracy'
The text adds that the "Karens" "then asked for and obtained free food."
Commentators also shared their criticism of the woman's remarks, with several pointing out that her clothes don't exactly scream good food…
"Am I wrong – does this look like a family style restaurant?" Is she wearing flip flops? But isn't this the place for the kids? So many questions, "wrote one, to whom @ Bamskye2426 confirmed that coloring books were provided and that they were in a" very family friendly place ".
Another user said: "Karen is not dressed exactly like at the Ritz."
"I would only agree if it were an upscale restaurant with fine cuisine. But Karen wears leggings and thongs. Sorry, kids are allowed, "commented a third.
The video is one of many articles on the incident, with a second clip showing her two children laughing and having fun, and another focusing on the mother's interaction with the restaurant owner.
"Notice another woman says 'get a free meal now' and the poor landlord is here to make sure we haven't done anything wrong and the six kids shut up and the adults scream.
"Further proof that I, my friend and my children haven't done anything wrong. They laughed and talked – these "adults" refused to pay, screamed and ran to our table, "the parent wrote.
Honestly, how dare someone speak in such a social environment as a restaurant ?! We also can't believe his nonsense, and to the families involved we say: laugh.