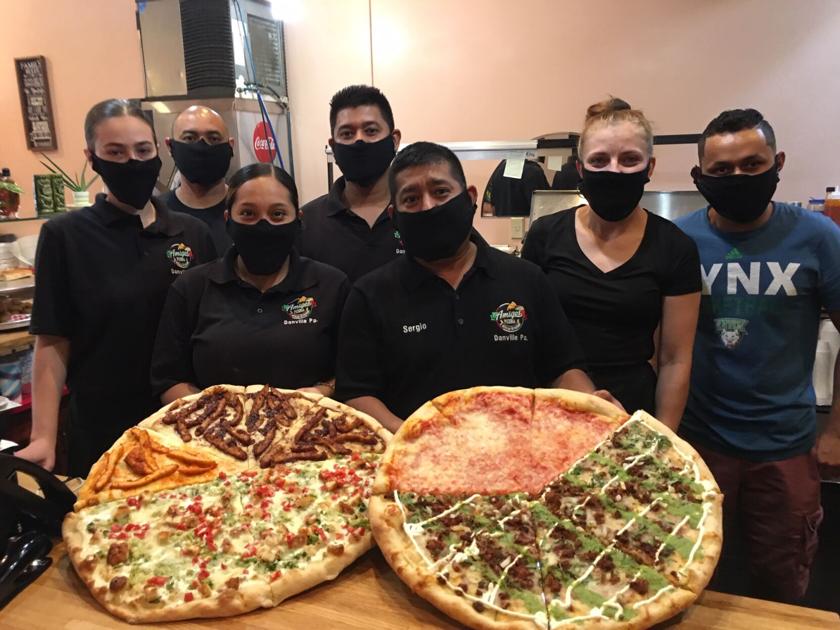 New companies have offers for the palate and the palette | Danville news
DANVILLE – Sarah Dayton is a registered dietitian and loves to cook. Earlier in her life, she went to culinary school, but then graduated in nutrition.
It is these cooking skills that have made her popular with friends and family.
"Everyone has told me, 'Cooking for me,'" Dayton said.
Now, she has turned her love of creative cooking into a business, one of many that have recently opened in downtown Danville, even as the lingering pandemic continues.
Dayton opened Dash Meal Solutions about two and a half months ago at 27 E. Market St., Danville, in a building owned by his in-laws. They and her husband, Steve Uhl, renovated the building where the couple also live.
A few blocks away, Sergio Chavez and three other family members recently opened Amigo's Pizza and Mexican Restaurant at 368 Mill St.
Another new venture just around the corner from the Dayton Kitchen is The Art Grind at 339 Mill St. which offers something for the artist's palette rather than the palate.
Creative cuisine
Dayton had been planning his meal prep business for some time. Before the pandemic, when she and Steve were on vacation, she thought about where she wanted to be in five years.
"I wanted to do something more creative," she said.
Since people wanted her to cook for them, she got her business idea to create specially ordered meals in her kitchen for pickup by customers. She has studied cottage food laws, which require state inspections of in-home food services, as well as those of restaurants that serve people on-site. Dayton's kitchen, downstairs from his residence, consists of an aft kitchen and a front reception area where guests come to pick up their meals.
Customers order from an online menu Wednesday through Saturday for pickup the following Monday and Thursday.
"I don't like throwing away food," Dayton said. "It allows me to control the portions.
Dayston, who works as a dietician at Geisinger, spends around 15 hours a week preparing and cooking, as well as updating the menus on his website. She does not currently offer delivery, but maybe in the future.
She enjoys doing anything with great, bold flavor, Mediterranean dishes, and whole grain, fruit and vegetable recipes.
Its website includes information on nutrition and allergens.
Previous meals she has prepared have included chicken, corn and poblano enchiladas, turkey sausage-stuffed peppers, and chicken antipasto. This week's menu includes chicken tortellini in pink sauce and a Vietnamese skirt steak with a rice noodle salad for Monday's pickup, and spaghetti squash with spinach and artichokes and stew from lamb for Thursday pickup.
"I would love to have retail space in the distant future," Dayton said. "I would like to start cooking classes here first. "
"They are like a family"
Amigo co-owner Sergio Chavez said the business opened on August 2. This is the first location for Chavez, who previously worked for over 20 years in a pizza business in Tamaqua. He felt the time had come to go out on his own.
He and his niece, Evelyn Lopez, who also works at Amigo, still live in Tamaqua.
"We drive an hour every day," Lopez said.
Two other of his uncles work in the kitchen. Nazario Lopez takes care of the Italian cuisine in the restaurant and Lino Lopez prepares the Mexican cuisine.
Chavez, Nazario and Lino Lopez and Alejandro Gomez are the owners of the company.
"They're like family," said waitress Katelyn Shade, of Danville. "They take care of their customers. "
Chavez said all employees are vaccinated.
The pizzeria-restaurant offers a variety of pizzas – even eggplant and ziti pizzas – as well as stromboli, calzones, salads, pasta, burgers, hot and cold subs and Mexican dishes ranging from tacos to enchiladas to fajitas.
Chavez said he chose Danville to open the business after searching the internet for vacant space. They opened in the building formerly occupied by the Italian restaurant Carini, which has moved to Northumberland Street (Route 11) in the borough.
Artist showcase
The Art Grind at 339 Mill St. doesn't sell food, but it does feed the spirit by selling artwork and offering artist workshops.
Business partners Brock Dent and Ashley Lopez opened the business on May 4.
They displayed the work of Emma Varano, then a high school student from Danville Area High School, now at Chicago Art School, in the front window.
"We had an exhibition of his work," Dent said.
They also exhibit the work of regional artists they know. Lopez and Dent are the resident artists.
Dent, 44, and Lopez, 32, who met in a printmaking class at Bloomsburg University, were looking for studio space after Dent lost his construction job during the pandemic. They found the storefront empty on Mill Street. Lopez still works for a food truck company.
"As long as we have a storefront, we might as well have a gallery," Dent thought. "If we have a show, we sell the work and take a small percentage. We also sell our own works of art.
The Art Grind has had two entertainers so far and has sold quite a bit of artwork, Dent said.
"We have had returning customers," Lopez said.
Dent said they opened the business when they did because it seemed like the end of the COVID-19 pandemic.
"We didn't exactly plan when we would open a studio," Lopez said.
The Art Grind is open Thursday to Saturday, 5 p.m. to 8 p.m.
Lopez plans to hold workshops to teach printmaking, and Dent runs painting and drawing classes. The studio hosted an acrylic demonstration on Sunday night with Ellison Strosser.
The gallery will present new works of art as part of the "Art is Dead" exhibition which runs until October. A reception will be held on October 9 from 6 p.m. to 8 p.m.
"We will definitely be doing more workshops," Dent said, adding that the gallery is open to the community.