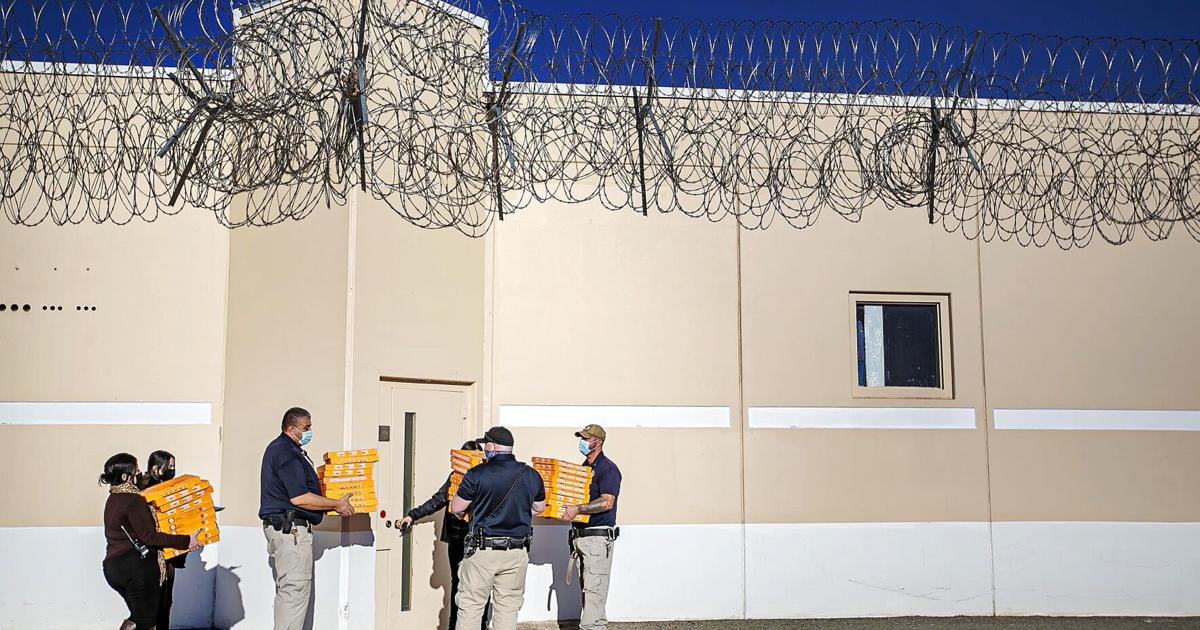 New Mexico Inmates Sell Food to Raise Fund and Donate to Local Charities | Local news
Empanadas, carne asada, chitlins, offal sauce, house stuffing, cream cheese pie, biscochitos, tamales, red chili enchiladas and grandma's pumpkin pie.
On Thursday, a group of prison club presidents stood in a circle at the New Mexico Penitentiary's Level 2 facility, recalling the holiday dishes they enjoyed outside.
"It's not a Christmas story, it's bacon," said one man. "I haven't had one for 10 years.
"Homemade food," said another.
"And love," said a third, "the fun times you share with your family."
Some of these men – who hail from Lordsburg to Raton and beyond – haven't tasted these treats in years and may not be for years, if ever.
Yet, they found a way to connect with each other and their communities outside the prison walls – through food.
There are eight service clubs in the 280-person facility, often referred to as a labor camp because everyone has a job.
With names like Gray Eagles, Haciendola and Pillars of the Community, they come together around a common heritage, life experience and interests.
There is a Black Awareness Club, a Vietnam Veterans Club and the Power Demons, for weightlifters.
Each month, members take turns selling food ordered from restaurants to other inmates – prisoners who earn between 25 cents and $ 1.25 an hour doing tasks such as weeding and cooking. in the prison kitchen – to raise funds to support their clubs.
Inmates order in advance; funds are deducted from their accounts on the day the food is delivered.
Most of the proceeds go to fund club activities, such as hiring speakers and purchasing food for seminars.
But club members also set aside some of the money to help each other and help the community.
Five percent of the money raised from the sale of food goes to a special education fund that pays scholarships for the children of inmates, unit director Christy Vigil said on Friday, and 10 percent goes to various charities chosen by the clubs.
Chicken from a hot sea bass and Albertson's pizza top the list of popular outdoor dishes with inmates, Vigil said. The clubs have also ordered from Panda Express and are receiving a hamburger delivery from El Milagro restaurant this week.
This year, Vigil said, the clubs saved their charity money over the past five months and donated a total of $ 2,100 in December.
Organizations the inmates have chosen to donate include St. Jude Children's Research Hospital, Gerard's Home for Children, Adolescents and Grieving Families, and St. Elizabeth Casa Familia, a shelter for women. singles and families with children.
"It's just a way to be there and show support for homeless mothers and children," said one man. "We see what's going on in the news. Even though we live indoors, we have it better than some.
Including some of their fellow inmates.
Across the penitentiary complex, at Southern New Mexico Penitentiary, levels 4 and 5 – state inmates are divided into six security levels, with level 6 being the maximum – men do not have the freedom form clubs or collaborate in fundraising.
On the south level, inmates live in groups of 12 and spend most of their time in single cells surrounding a bare central room with a microwave, two phones, and a few tables with seats bolted to the concrete floor.
They are allowed to go out for about five hours a day for "floor time, programming and recreation," assistant manager Robert Sanchez said.
They spend the rest of the day in their cells, where they take their meals on trays brought back from level 2.
Even in such a small place, there was evidence Thursday of the holidays ahead, an occasional treat, and a connection, however tenuous, to the outside world.
In the southern establishment, prison staff organize periodic pizza sales, take orders and deliver food to the men's cells.
This year, the facility raised $ 850 from the pizza sale and used the money to purchase 40 gifts for residents of Youth Shelters and Family Services in Santa Fe.
On Thursday, a group including Sanchez and Unit Manager Wendy Perez – both of whom have worked at the prison for more than 20 years – delivered pizzas to the pods.
They brought a laundry cart full of gifts – wrapped in paper adorned with silly penguins wearing Santa hats and winter scarves – so that inmates could see the good being done with the money from their purchases of food.
Most inmates accepted pizzas through the slits of their metal doors, which clicked as they opened and closed.
Two Little Caesars boxes fit well.
One inmate, Ricky Sena, was allowed out of his cell to collect his food.
Sena said his family pays for him to buy food from food sales and the prison canteen, so he won't have to eat the food prepared by the institution.
"I pretty much live near the police station," Sena said. "I don't really eat [off] trays.