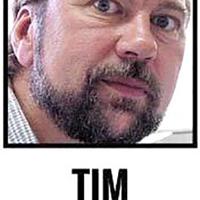 No fancy mac and cheese for me | Local News
We all have our guilty pleasure foods. For me, these are often things we rarely had when we were kids.
Growing up, I thought we were cursed because pretty much everything we ate was made from scratch.
But every once in a while Mom would break down and buy ready-made, canned, or frozen things at the grocery store.
I still remember trying Chef Boyardee Spaghetti and Meatballs. I was in heaven. Same with the Dinty Moore Beef Stew.
Looking at them now, they're both pretty nasty, especially the sad looking spaghetti and meatballs packed in the box.
Once in a while, I still make mac and cheese. Not the gourmet stuff they make, but Kraft boxed macaroni and cheese with the pocket of dry cheese-like stuff. I always like this stuff.
When I was a kid, we had the canned Chun King Chicken Chow Mein from time to time.
I remember feeling very suave and international while eating it. Chinese food, Mexican food, Thai food, Indian food just wasn't a thing in rural Minnesota in the 60s and 70s.
The Chow Mein was three boxes wrapped into one, with the meat in one, the sauce in another, and crispy noodles in the third.
Heat the meat, put it in the sauce and heat again, pour over crispy noodles and you have been transported to the Orient.
There were tons of ads for it, trying to get Americans to try something so exotic.
"One of their jingles said, 'Try Chun King for beautiful body, try Chun King for beautiful taste, try Chun King for beautiful life…"
Regardless the gelatinous concoction looked like brown wallpaper paste and tasted worse, it's still an awesome memory.
The occasional TV dinner was another big luxury when I was a kid. Swanson brought them out in the mid-1950s, around the time microwave ovens became popular. They were a big hit for many moms who were tired of cooking from scratch. Swanson sold 10 million TV dinners the first year and 25 million the following year.
They weren't very good. But the convenience and the different foods in the little compartments was a treat.
Everyone has their own list of guilty pleasure foods.
For some reason, Nutella is high on many people's bucket list. I don't think most people have ever tried it. I have and it's not on my list.
Others crave sour gummy bears, Cheetos, shells and Velveeta cheese, pizza rolls, Slim Jims, Lunchables and other things they may have tasted and sparingly enjoyed when they were children.
Today, many children are not getting an abundance of meals prepared from scratch as they graze through the full spectrum of fast food, frozen foods, canned and packaged foods that we have been for the most refused. When they grow up, I'm not sure what guilty pleasure food from their youth they'll crave.
For me, a box of mac and cheese will always trigger contentment.
Tim Krohn can be reached at [email protected] or 507-720-1300.