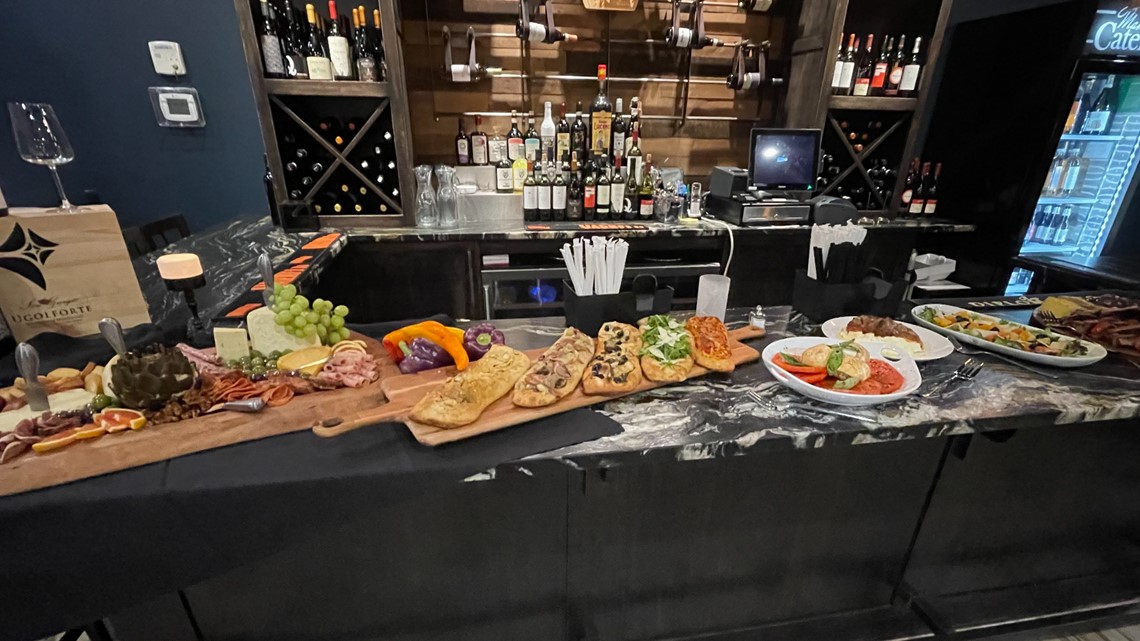 Northeast Ohio Italian restaurant treating diners like family
EUCLID, Ohio – At Mama Catena Vino e 'Cucina, or Mama Catena's, as it's affectionately known, diners are not only served with a traditional Sicilian affair, but are also treated with large helpings of heat, hospitality and family.
The family behind Euclid's Italian restaurant know how unassuming their restaurant looks from the outside; tucked away at the end of a small strip mall in Euclid, little on its facade screams an authentic Italian dining experience. But walk through the doors, and that's another story.
"Our memories are all really based around a dinner table," said Fran Lausin, reflecting on her family's traditions of meal preparation and canning tomatoes, as they have done for generations.
Sisters Fran Lausin and Rina Catena are the self-proclaimed heartbeats, blood, sweat and tears behind Mama Catena. The sisters do everything in the restaurant, from answering the phone to preparing meals.
Their grandparents came to America from Sicily first, followed by their sister's parents, Giuseppina and Francesco. Eventually they settled in Ohio, putting down roots and starting the restaurant in 1989.
"The American dream was to own his own business, so he started this business, and here we are," Rina said of her father's vision for the restaurant.
The sisters recall their humble beginnings at the restaurant, which was initially a smaller space than it is today. Fran remembers a four-burner stove and no ice maker. But over the years, the restaurant has grown, with the family eventually expanding its space.
"They brought people together, so that's what we're trying to do here," Rina said. "We try to create memories and bring people together. Food and wine, what else do you need? »
The sisters have stayed true to their Sicilian roots, offering dishes on their menu based on traditional family recipes. For example, one of their signature dishes, their roasted eggplant, is not breaded like you might see in other Italian restaurants. Instead, it is prepared as it has been for generations of Catenas, simply roasted and stuffed with garlic, fontinelle and basil, on a bed of ricotta.
Their menu features other traditional Italian fairs like arancini, polenta, and pizza, while allowing diners to customize their meals by inviting them to build their ideal pasta dish.
For the more adventurous eaters, Rina will prepare the "Piatto orbo", or blind plate, where she is able to surprise diners by selecting each course of their meal, even preparing special dishes that are not on the menu.
While today the restaurant is a proud tribute to Sicilian cuisine, there was a time when its future was not so bright. In May 2017, the restaurant burned down, leaving the family heartbroken.
RELATED: Fire Causes Extensive Damage at Euclid Restaurant
"I see a sea of ​​police, fire, lights, and they won't even let me through traffic," Rina recalls.
"The fire started in an instant," Fran said.
Despite the devastation, the family was determined to rebuild, true to their commitment to their father's vision.
"My dad and mom started this, and we wanted to continue their legacy," the sisters said.
These family memories and the ability to serve the community have always been at the heart of the mission of Giuseppina Catena, known as "mama". Although her husband has passed away, the family carries on the spirit of their restaurant.
"We were together for 67 years. I can't forget that," Giuseppina said.
Today, Giuseppina can be found welcoming guests or chopping garlic, doing her part to make every guest feel at home.
"Everyone comes for the food and for mom," Giuseppina said.
The family feeling is evident throughout the restaurant, which took a year to rebuild after the fire.
"They feel like they're at home, at home, welcomed and appreciated," Rina said.
Whether it's cannolis or a smile of welcome from mum and her family, the Catenas carry on the Sicilian tradition, steeped in love.
"You come in as a guest and you leave as a family, an extended family," Rina said.
"Something in those four walls, it happens," Fran said.
To see Mama Catena's menu, click here.
EDITOR'S NOTE: The above video previously aired on 3News on August 21, 2022.
RELATED: Taste of Home: YumVillage Celebrates Afro-Caribbean Dining in Cleveland