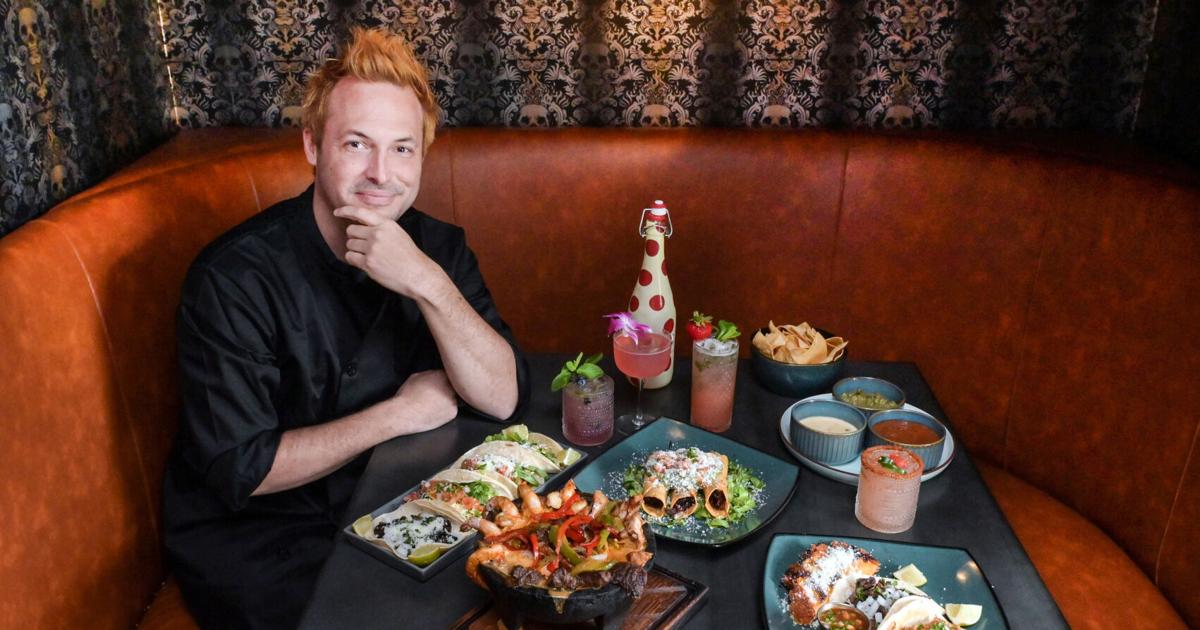 Rock-N-Taco Serves Southern California-Style Mexican Dishes in the Warehouse District | Food and drink | Weekly Gambit
Don't let Rock-N-Taco's $60 molcajete price scare you away. This dish — the crown jewel of a solid Southern California-style Mexican menu — is loaded with carne asada, chicken tinga and jumbo Gulf shrimp and easily feeds four. Add the guacamole, pico de gallo, rice and tortillas, and it's a feast for sure, all served in a lava rock bowl. But it's the sauce that's amazing, a complex simmer of Roma tomatoes, dried chili peppers and queso asadero, or Mexican melted cheese, for creaminess. It's so captivating that a spoon is a must, and so addictive that as soon as the weather turns cold, it'll be on the soup menu.
That's all Logan Trotter does. Trotter, a New Orleans native who spent 10 years of his childhood in San Diego before returning to Louisiana, opened Rock-N-Taco on Cinco de Mayo. Although there was no business connection with neighbor Rock-N-Sake on Fulton, it was because he was working there, rolling sushi between business ventures during the pandemic, that he saw that the space was for rent. "I walked by and remembered how awesome the space was when it was RioMar," Trotter says. "I wasn't really sure what I was going to do there, but I knew it was time to really get back to work."
Trotter has seven years of experience operating restaurants as a franchise owner, having at one time run three Zoe's Kitchens in Louisiana, and two more in development. Business was good at the fast casual restaurant with a menu of American and Mediterranean dishes. "I was in expansion mode when the company decided to move away from the franchise model and approached me to buy the restaurants," he says. It wasn't his original plan, but the deal was done in 2015. Then he made investments in restaurants, which went south when Covid hit.
When his friend Rodney Bonsack, executive chef of Rock-N-Sake at the time, asked him if he could roll sushi, he said yes and signed. "It was such a break from the stress of owning your own business and all that responsibility," he says. "It was the perfect thing for me to do at the time."
Trotter still helps out owners Tanya Hailey and Duke Nelson on some nights at their new venue, Bisutoro, where Trotter's girlfriend, Olivia Haley, runs the bar.
Trotter sought to build his own niche with Rock-N-Taco, a name he chose with Hailey and Nelson's blessing. "There's a lot of great Central American food and a lot of taco restaurants here," he says. "But the food I grew up on – real Southern California Mexican food – where the California burrito comes with fries, it's not here."
Rock-N-Taco has a sleek, clubby vibe, with bright Day of the Dead wallpaper, a gorgeous mural with a similar theme by local artist Peyton Hammond, leather banquettes, and bright, clear pendant lights. The upscale vibe is designed to match what Trotter calls its fine Mexican cuisine.
Head chef Fernando Chinchilla — who worked for Trotter for 12 years at Zoe — runs a menu that ranges from carne asada nachos to individual tacos, including the Gringo and a vegetable version filled with sautéed mushrooms. There are fajitas, an expensive 40-ounce tomahawk steak, and something Trotter calls taco wraps. "That's what they call them in San Diego, but some people call them taquitos or flautas." Corn tortillas with a choice of fillings are rolled up and fried. The taco birria is outstanding, a mixture of chuck and ribs slow cooked and accompanied by a mixture of cheeses stuffed into a corn tortilla, crispy on the griddle and served with a savory dip on the side.
The bar menu offers a deep dive into tequila and mezcals, as well as bottled sangria and cocktails. An event space behind the bar is available for private parties, but the plan is to have a club, the Skull Lounge, open with bottle service and DJs spinning electronic dance music and Latin pop. "We've opened several times and been criticized," says Trotter. "I am assembling a security team for when we are ready to open. I've never managed a club, so it's interesting. It is a work in progress.
---