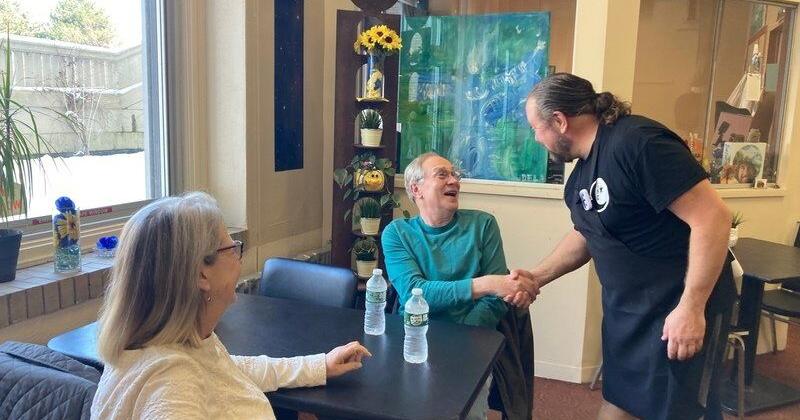 Starry Night Café reopens at NACC | Lifestyles
NIAGARA FALLS – The Big Dipper sandwich is the one that chef Joe Zarrillo says shines the most in his recently reopened Starry Night Cafe.
It's the star of its cafe menu inside the Niagara Arts and Cultural Center on Pine Avenue and Portage Road.
The chef does something special when he toasts Italian bread, adding a pinch of grated Parmesian to the butter spread on the outside of the toast, allowing the bread to support its own weight against the tender braised pieces of beef. cabernet, topped with homemade horseradish aioli, white cheddar and grilled onions, served with a gravy dip.
The $ 13 sandwich competes with other dishes and menu specials, including on a recent day a tomato-braised pork stock with garlic aioli and provolone cheese between slices of bread. grilled parmesan crust.
"His cooking is an art," said Kelly Lang Buckly, spokesperson for NACC, while recently having lunch at the first-floor cafe.
Hers is an appropriate assessment as there is art all over the NACC, a community art center with an ever-changing art constellation, including several community theaters, art galleries, museums and studio spaces. affordable.
The café is named after a famous painting, "The Starry Night", by Dutch impressionist Vincent Van Gogh, and is decorated with artwork paying homage to this very popular work of art.
The cafe, which opened several years ago, eventually turned dark when the NACC curtailed public access during the pandemic. When the NACC fully reopened in November with the "Native Voices" gallery exhibit, the Starry Night Cafe reopened.
A redesigned gift shop shares space with the cafe, which features an upgraded kitchen that allows Zarriillo to get food out faster than ever. "The food is flowing now. I'm happy to say it, "Zarriillo said.
New on the menu are Mexican selections, including authentic tacos and burritos, which the chef learned to create while living in Los Angeles.
Zarrillo, a bassist, moved to California to pursue a musical career at the age of 19, but eventually began to miss the flavors of his Niagara Falls home. He called his aunt to ask her directions and the first thing he won in the kitchen was his grandmother's sauce. His culinary career evolved from there, and he eventually worked as a chef for two upscale California country clubs. His time in California also increased his love for authentic Mexican cuisine.
"Living in California for as long as I have, I've bought a lot of good Mexican food," he said, adding that authentic Mexican food is "hard to come by in downtown Niagara. Falls ".
His slowly roasted pulled pork carnitas include homemade salsa verde, marinated red onions on a corn tortilla or burrito shell, with ranchero-style beans and rice.
Mark and Diane Kraft of Lewiston are loyal customers. "We're happy he's back at the CNAC," said Mark while enjoying his Big Dipper. "When COVID shut down the place, Chef Joseph was preparing his Keto meals for delivery and we would pass and queue in front of Portage Road and pick up our dinners, which were also delicious," he said.
"We love Joe," his wife Diane added, while dining on a "half and half" lunch of squash soup and a half chicken salad sandwich. "He's a great guy and the food is fabulous," said Diane.
The Starry Night Café will open today when the NACC holds its annual membership meeting and premieres two gallery exhibitions celebrating western New York artists and their pets. The Main Gallery will host 'The Artists and Friends Showcase', and the new Kudela Gallery will host the Pet Pals exhibit, featuring the fellow furry, feathered and gill artists, who have kept artists company during the pandemic. .
The CNAC is open every day from 9 a.m. to 5 p.m. The café is open Tuesday to Saturday from 9 a.m. to 3 p.m. The new exhibitions are open from Sunday to January 22. The artists' reception, also open to the public, will be from noon to 2 p.m. on Sunday, with catering at the Starry Night Café.
Michele DeLuca is a correspondent. She can be reached at [email protected]