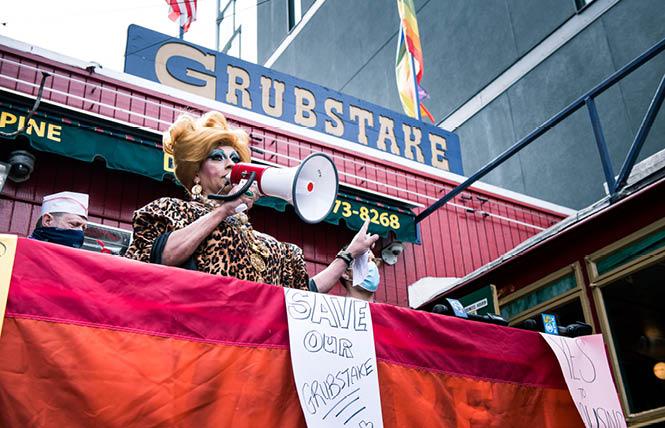 Supes to vote on Grubstake's fate after appeal
The last chapter of the Grubstake Diner saga was written Monday at noon, as drag queens Juanita MORE! and Donna Sachet appeared at the late-night eatery in the Polk Gulch neighborhood, expressing the LGBTQ community's support for a building project that would save it.
"As an Empress, I implore you to say all you can, as loud as you can," said MORE! – recently elected Empress of the Imperial Court of San Francisco. "Unlike the building next door, we want to build a space that people can afford to live in."
This neighboring building at 1545 Pine Street is a condominium complex called The Austin, which has units in the order of a million dollars.
BAR readers may have thought that the controversy over whether Grubstake owners Jimmy Consos and Nick Pigott could build 21 units (reaching 79 feet tall) above the restaurant over neighbors' objections had ended. on July 22, when the Planning Commission approved the project in a 4-2 vote.
But later, some residents of the neighboring building at 1545 Pine Street appealed the decision to the San Francisco Board of Supervisors, which will vote on Oct. 5 at 3 p.m. to uphold or dismiss the appeal.
Consos affirms that it is continuing the project aimed at making the recovery of the historic site favorable to LGBTQ + financially feasible. The appeal from Patricia Rose and Claire Rose, among other residents, gives many reasons why the project should not go ahead: including that the demolition of the existing building would necessarily mean that the restaurant could not be preserved as a historic resource, impacts on automobile traffic and public transportation, and negative impacts of shade on the Austin property and its residents.
"It should be noted that there are proposals in the proposed project that attempt to replicate the Grubstake in the proposed new building by removing and incorporating specific features into the new project," the call says. "Oddly, however, these specific efforts are not mitigation measures. These efforts are insufficient to mitigate the loss of the historic resource. … The treatment of this historic resource is embarrassingly inadequate.
At the September 27 rally, Consos urged people to call during the public consultation at next week's supervisors meeting to express their support for the project.
"It means so much to us here at Grubstake that we are not alone," he said, surrounded by MORE !, Sachet and Gary Virginia, former chairman of the board of PRC and SF Pride.
Speaking to BAR, Consos, a direct ally, said the purpose of the rally was "to let the community know what's going on and the importance of this place."
Virginia remembered the historic significance of the restaurant.
"I moved here in 1987 and have lived in the Castro neighborhood most of those years," he said. "I have always felt welcome and safe in Grubstake as an openly gay man, long-time AIDS survivor, young man, older man, whatever I was wearing – or not."
Sachet told BAR that Consos is "quite a historian, and his love for this place has rekindled mine".
"Do you think I wanted to be up at noon after the Folsom Street weekend?" Sachet asked, rhetorically. "None of us should be here. You know who should be here? U-Hauls is moving people to affordable housing. We who live here in the Bay Area know we needed new housing yesterday."
MORE !, a resident of Polk Gulch, said the LGBTQ community still needs spaces like Grubstake, just like the city needs more affordable housing.
"I stayed in this place many nights – long after they closed – hanging out, talking and having a good time", PLUS! recalled. "Unlike the building next to us, we want to build a space that people can afford to live in."
Sister Roma, of the Sisters of Perpetual Indulgence, out of sight, also made an appearance.
"I've eaten here forever," Roma said. "I love this place. I support 1000% of building affordable housing here."
David P. Cincotta, a lawyer who filed the appeal on behalf of the Roses, did not immediately respond to a request for comment.
District 8 supervisor Rafael Mandelman, the only LGBTQ member of the board; and Supervisor Aaron Peskin, who represents District 3, where Grubstake Restaurant is located, also did not immediately respond to requests for comment.
Help the Bay Area Reporter keep going through these trying times. To support local, independent and LGBTQ journalism, consider becoming a BAR member.