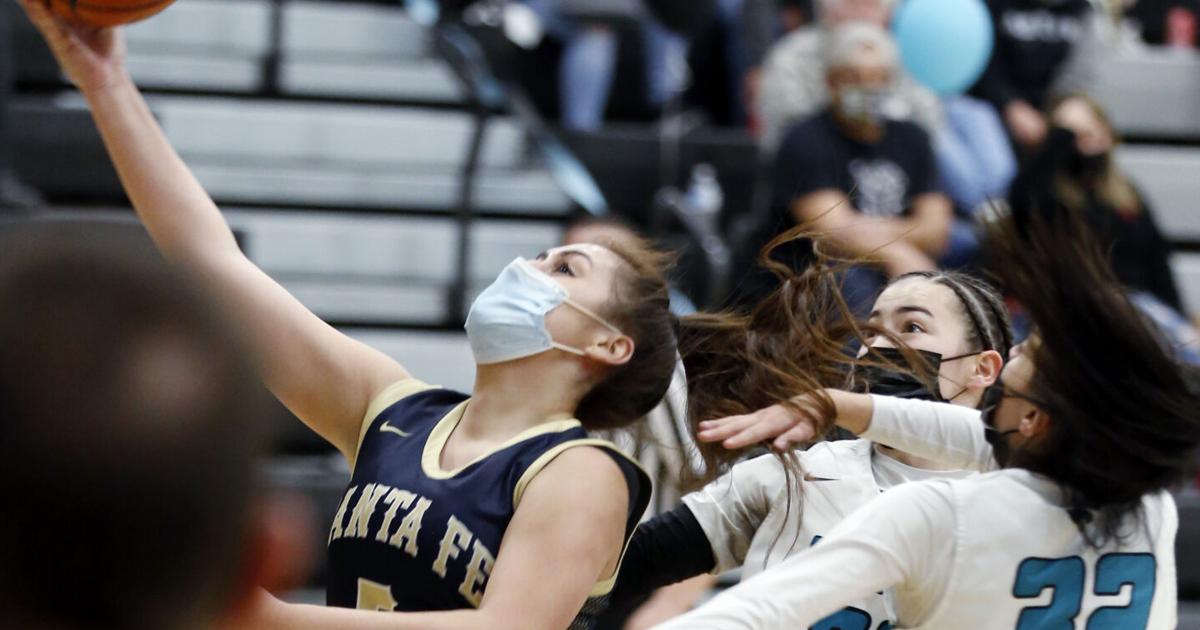 The Demonettes win a 16th victory and try to mark their own history | Sports
When the Santa Fe High Demonettes talk about 2014, it's not just a year for them.
Rather, it is a benchmark for the glory days of the women's basketball program. It was the year Santa Fe High won the Class 4A state title, but it was also the beginning of the end of an era that saw the Demonettes reach the playoffs for five consecutive seasons.
The Demonettes hope future generations will talk about the 2021-22 team in the same breath, and they hit a big milestone on Tuesday night. The trio of Maci Cordova, Laisha Diaz and Zuriel Vigil combined for 44 points as Santa Fe High beat Capital 65-33 at Edward A. Ortiz Memorial Gymnasium to secure second place in the District 5-5A.
At 16-8 overall and 7-2 in district play, the Demonettes moved closer to reaching the Class 5A state tournament for the first time since 2016-17. Despite missing five years in the playoffs, Santa Fe High was aiming higher.
That's why Demonettes head coach Nate Morris wrote "2014" on the whiteboard to remind the current crop what their goal is.
"We have '2014' etched in our brains," said Cordova, a junior guard. "It motivates us a bit to do better and reach a higher level than we had before."
The 16 wins are the best on the program since the 2014-15 team went 16-12 in its first Class 5A season. The Demonettes do something these revered teams have done: they play their best at the right time. Since losing to Roswell Goddard in the Poe Corn Invitational championship game in Roswell, Santa Fe High has won 10 of its last 12 games.
The recipe for success has been a well-rounded attack combined with an all-court press that gives the Demonettes plenty of transition opportunities. Capital (6-19, 3-6) turned the ball over 30 times, including 18 in the first half as Santa Fe High took a 33-7 halftime lead. The 65 points was a season best as eight players scored against the Lady Jaguars.
Junior winger Kate Padilla said finishing as a district runner-up and securing a winning record are huge achievements for the program.
"It's a big thing for us this year," Padilla said. "I mean, we haven't been in the state since [2017]."
Morris said it took time for the team to recover from the early season loss of junior guard Victoriana "KiKi" Benavidez to injury. Benavidez's absence, however, allowed Diaz to step up and become an indispensable spark plug when the offense stagnates.
"Laisha, she's the backbone right now," Morris said. "She's the one driving us forward with her superior energy. You roll her up and she's gone, and the girls feed off of that.
Yet despite all the success, Santa Fe High finds itself in a pickle. He could potentially flirt with 20 wins but stay in the bottom half of the 5A bracket. His MaxPreps.com Freeman Ranking, which the New Mexico Activities Association uses to help select and seed teams, sits at No. 16. Much of this has to do with a neighborhood that takes four of the bottom five spots (Los Lunas, Capital, Albuquerque Manzano, and Rio Grande) in the 5A ranking.
The Demonettes have only faced two higher-ranked teams, according to the Freeman rankings, in the past six weeks – 5-5A champion Albuquerque High, which swept them, and Indian School Santa Fe, which Santa Fe High beat 38-25 on Jan. 6.
Morris said he bolstered the schedule by taking on teams like Rio Rancho (twice), Clovis and Las Cruces Centennial. The Demonettes even went to the Poe Corn Invite as part of this strategy.
"We could go into the tournament with 18, 19 wins," Morris said. "It's unfortunate that our district is down this year, but we're doing everything we can against tougher teams."
Cordova said the Demonettes seem resigned to earning a bottom-four seed (12-16) and likely playing Albuquerque La Cueva, Farmington, Hobbs or Carlsbad. However, she points to their 44-42 overtime loss to the Lady Bulldogs on Feb. 4 as a sign that they can compete with those kinds of teams.
"These teams are like Albuquerque High, and we almost got that game," Cordova said.
While that may be a daunting task for the Daemonettes, Morris sees this season's success as a springboard for 2022-23. Six seniors will graduate, but he expects a roster of nine or 10 seniors for next winter – led by Cordova, Vigil and Benavidez.
Morris even pointed to underclassmen like Isabella Lovato, who knocked down a 3-pointer in the fourth quarter, as a promising sign of the program's future.
"They give us more guards and better speed," Morris said. "Now when I take Laisha out or take our Maci, there's not as much drop."
On the contrary, their presence indicates a turning point for the better for the program, to the point that "2022" could be the new benchmark for Santa Fe High.