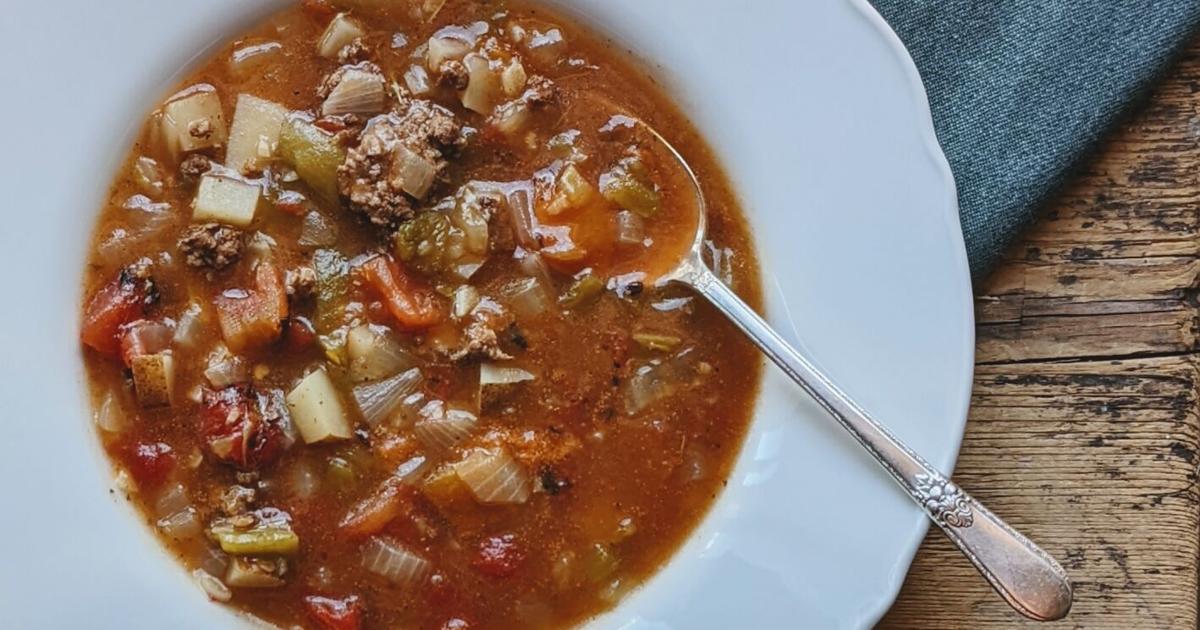 'The power of food': Las Vegas Bar Castañeda intensifies amid wildfires | Taste, Santa Fe's food scene
As you enter the Hotel Castañeda in Las Vegas, NM, it's impossible to miss the handwritten sign covering the dining room door that reads, "We are Las Vegas Strong." If you walk a little further down the hall and through the white double doors into a dining room normally reserved for private events, you will see the beating heart of a movement to bring relief to a community reeling from the shock of the crisis. uncertainty and devastation caused by the Calf Canyon/Hermits Peak Fire.
The combined wildfires burned more than 200,000 acres of forest near Las Vegas for more than a month, and the city quickly became an epicenter for welcoming evacuees and coordinating firefighting efforts. Inside the historic Hotel Castañeda, Bar Castañeda, owned by chef Sean Sinclair and his wife Katey Sinclair, opened to serve free meals to first responders and evacuees.
The buffet is open from 2:00 p.m. to 6:00 p.m. seven days a week, although when I was there I noticed that the kitchen crew prepared food for the firefighters who could not arrive until after 8:00 p.m. once their shift finished. There is a collective energy and determination among the staff at Bar Castañeda, and their plan is simple: as long as there is a need, they will feed everyone they can, no matter what.
They are collecting donations (feedlasvegas.com) to maintain the buffet and food delivery efforts, and 100% of donations go towards feeding and supplying families in need.
When my friend Katie and I arrived on Sunday afternoon for a volunteer shift, the first person we met was Mo Vigil, who gave us the lay of the land, showing us the flowers that had been donated by a local florist to distribute to Mothers Day celebration mothers, how to make coffee, what areas need sweeping and how to serve people when they started arriving. "We don't just feed people," Vigil said. "We want them to feel cared for and treated with dignity and respect." She spoke with such kindness and a startling sense of responsibility that I assumed she was running the operation. She explained to us that she was a waitress in the restaurant and came back to check on us throughout the day whenever she could.
What started as a buffet feeding 100 people has quickly grown as more find refuge here and the need for food delivered increases. Two servers, Jackson Revell and Justin Woodlee, delivered breakfast and packed lunches each morning to the airport for arriving firefighters, the Luna Community College Incident Command Center and the Fire Processing Facility. the water.
Amber Quintana, who lives in the neighborhood and uses her days off to volunteer in the dining hall, said: "We had a lot of time to prepare [being out of the evacuation zone], and that means we have a lot more mental space to help out here. It's a privilege to do something that offers connection and a meal when so much is beyond our control. With so much going on for so many people, you still hear a lot of joy in this room.
Castañeda Bar serves or delivers about 600 to 750 meals a day, but expects that number to grow significantly with the influx of support across the state, including other local restaurants and businesses like Heritage. Hotels, who works to help her. create deliverable meals at scale.
And Bar Castañeda is not the only one. Although it must adapt daily to increased and changing needs, there is a strong support and coordination effort between groups like World Central Kitchen, which has set up operations at Santa Fe Community College, and the Las Vegas New Mexico Community Foundation, which focuses on the future and what it will take to rebuild devastated areas.
Chef Sinclair told me about the transformation of Bar Castañeda. "When we opened this restaurant three years ago, we were making tacos from a food truck. Now, and almost by accident, thanks to our incredible team, we have built a grassroots humanitarian movement that is having a huge impact. For someone who just lost their home and be able to take away the awful feeling, even for a moment, that's the power of food.
He said a fire platoon chief pulled him aside in recent days and told him that in 28 years of work he had never experienced this type of community effort to help care for the first responders.
Bar Castañeda's head chef Josh Loseke ran the show in the kitchen on Sunday, and while they regularly restocked the buffet with pot after pot of spaghetti bolognese, roasted vegetables, bowls of salad, freshly baked rolls and hot fresh-out-of-the-oven cookies, I noticed they also had a steady stream of tickets from the restaurant out front. Loseke had been working 15 hour days since they opened the buffet and hadn't taken a day off since he started, but he didn't flinch when I asked him what that meant to him.
"I love what I do and I love our team," he said. "Over the past week, I've walked out of the kitchen to restock the buffet and had guests hug me with tears in their eyes. I'm going to come out of this experience a better chef and a better person.
The damage caused by these fires also extends to local businesses. As business has slowed in the area, restaurants still have to pay their staff. Bar Castañeda has therefore partnered with other local restaurants to prepare and collect food for those in need. Bar Castañeda reimburses them for labor and food costs, which helps these restaurants pay their employees.
When I asked Allan Affeldt, owner of Hotel Castañeda, how they decided to take care of everything, he replied, "It was a simple decision. We have a hotel and a restaurant, so what are you going to do when your community is in crisis? You house people in need and you feed them.
"There is also a spiritual element here. People need a meal and someone to be nice to them.
With each new person I spoke to on Sunday, a common sense of belonging and community emerged. I began to understand how a foodie destination like Bar Castañeda could come together to feed hundreds of first responders and those in need every day.
This week, I'm thrilled to share the recipe for one of Bar Castañeda's signature dishes, Frontier Green Chili Stew. This recipe is easy to make, delicious and makes five litres, so there's plenty to share, which seems fitting considering the generosity of the team it comes from.
To donate to the tireless work of the restaurant, visit feedlasvegas.com. For more information, to sponsor a meal day and for volunteer opportunities, email [email protected]
Bar Castañeda Frontier Green Chilli Stew
Makes: 5 pints; total duration: 1 hour
1 head of garlic, finely chopped
3 large russet potatoes, diced
1 can (28 ounces) crushed tomatoes
3 cups roasted Hatch green pepper, peeled, seeded and diced
6 cups chicken or beef broth
Preparation: In a large, heavy-bottomed saucepan over medium-high heat, sear the ground beef until cooked through and browned. Using a slotted spoon, transfer the beef to a bowl and set aside. Carefully remove all but 1 tablespoon of melted beef fat from the bottom of the pan. Add the onions and garlic and sweat them in the pan for about 10 minutes, stirring frequently. Now add the tomatoes, green chilli, cooked ground beef, potatoes and broth. Bring the stew to a boil and cook until the potatoes are tender, about 30 minutes. In a separate bowl, whisk together cornstarch and water to make a slurry. Slowly pour the porridge into the stew and simmer for five minutes to thicken. Season with salt and pepper to taste.
Marianne Sundquist is a chef and writer who in 2020 co-founded Stokli, an online general store. Find her on Instagram @chefmariannesundquist and email her at [email protected]