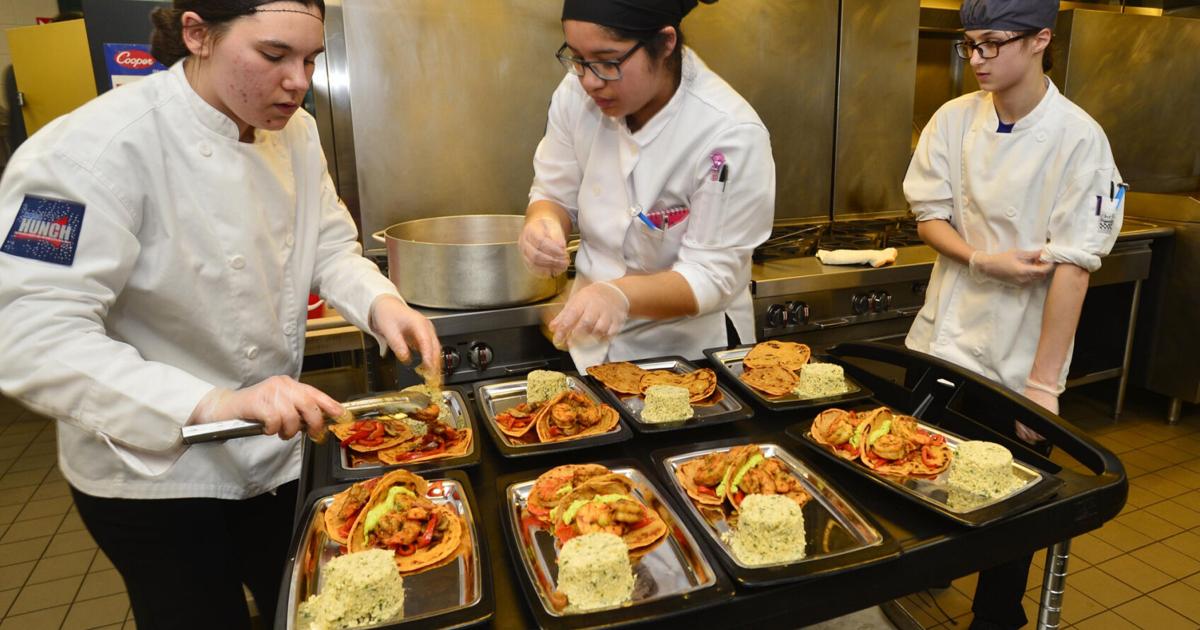 (WATCH) A Recipe for NASA: Genesee CTE Students Participate in a Culinary Challenge | Featured story
BATAVIA — Three culinary arts students at the Batavia Career and Technical Education Center hope the Tex-Mex meal they created is good enough to place their team in the top 10 in the next round of the National Culinary Arts Challenge for the NASA National HUNCH Program.
The challenge's winning meal will be produced at Johnson Space Lab and sent to the International Space Station for astronauts to enjoy.
The National Culinary Arts Challenge competition kicked off Friday at the Genesee Valley BOCES on State Street in Batavia. Students LiliAna Espinoza, Tristan DiLaura and Alexa Wolcott prepared their dish in the Culinary Arts kitchen and presented their dishes to the area judges. The team competes with other student teams from across the United States.
Espinoza, a second-year culinary arts student from Batavia and senior at Batavia, said there were 65 schools in Friday's challenge.
"We have to stay under a certain calorie, a certain level of sodium, because astronauts are in quarantine before going into space. In their 40s, they need to stay under a certain calorie, certain nutrient to stay healthy and make sure they're not sick to ride," she said.
Espinoza said the menu they offered was tex-mex.
"I chose this recipe. I did it. Our other recipe was a pizza made with watermelon spinach salad and a side of sorbet. This recipe is a shrimp fajita with a red lentil tortilla, a side of lime cilantro cauliflower rice, and a Mexican brownie to stay within that theme," she said. "I chose the red lentil tortilla because it had no flour. We stayed under the sodium limit and it just gave us lots of fiber. Never heard of it, never seen it, thought it was something cool for astronauts to try.
The top 10 teams will advance to the next round of competition, to be held in April at NASA's Johnson Space Center in Houston, Texas. Espinoza said that if Genesee Valley BOCES makes it to the next round of 10 schools, "We're going to cook for the astronauts, have them judged and if we get to the top three, we're going to get a full-scholarship to the University. Sullivan.
Espinoza said she, Tristan DiLaura and Alexa Wolcott had two weeks to come up with the recipes. They had to stay under or at a sodium level of 800 milligrams and less than 1,100 calories.
DiLaura said they opted for the tex-mex meal because they felt it better suited where the astronauts are and where the students try to grab the food.
"I made a lot of side dishes and I make the avocado sauce most of the time. I also recently worked on cooking shrimp and peppers for fajitas," DiLaura said.
When asked if it was hard to stick to or stick to the sodium and calorie limits for the meal, DiLaura said, "It gets hard sometimes when you really want to put more salt and butter in something. , but there are plenty of ways to get around those calories. . There are ways to circumvent this and make your meals even better than they could with these other ingredients.
Culinary arts instructor chef Tracy Burgio said things were going pretty well during the prep Friday morning.
"There are always unforeseen events. It's part of being in a kitchen… We go through some ups and downs and some things that we had to tweak and change – very time consuming, very difficult to prepare – very simple ingredients, but very , very difficult to prepare," she says.